Matrix Chat
Some people are having trouble getting into the matrix chat. The arrow on this image shows where to click.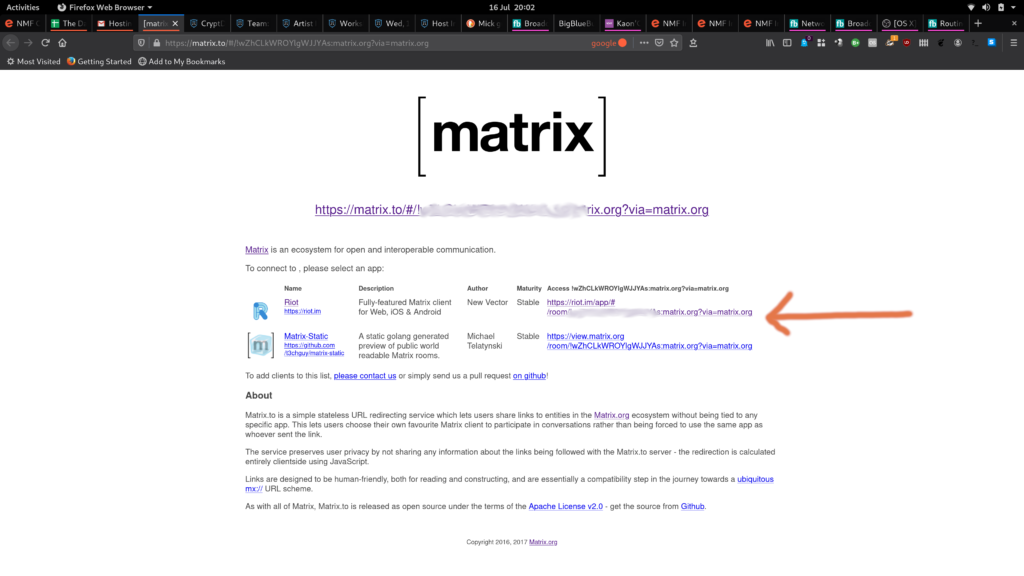 Click the upper right link. You may need to sign up for an account and then try again.
Streaming
You should have received email containing keys and URLS. If you have misplaced this email, please write to us immediately.
If you are in the middle of the concert and have lost the email / key, please ask in the chat room for the concert.
We recommend you use OBS Studio to stream. Whatever system you use, please do a test stream on our test channel.
If you are a Mac user who is new to streaming and audio routing, please see OBS's guide to sound routing for mac users.
Anyone new to streaming or OBS will want to check out our guide.
Encoder Settings
| | |
| --- | --- |
| VIDEO CODEC | H.264 (x264 may work, but H.264 is definitely recommended to have the smoothest stream) |
| FRAME RATE | 25 |
| KEYFRAME INTERVAL | 2 secs (or 2x frame rate) |
| SCANNING | Progressive |
| ENCODING BITRATE | Constant (CBR) |
| AUDIO CODEC | AAC |
| AUDIO BITRATE | 128 kbps |
| AUDIO CHANNELS | 2 (Stereo) |
| AUDIO SAMPLE RATE | 48 kHz (48,000 Hz) |
Settings recommended by our streaming provider
Resolution and bitrate settings
Please select one of the following configurations and use it exactly. Do not mix and match values!
Depending on your speed of network connection, most of you will want to stream SD, however, HD, LD and ULD are all allowable.
Video Bitrate: Do a speed test first (testmy.net/) at the place where you will be live streaming. Adapt your video bitrate to be 50% or less than your measured upload speed, but never more than 1900kbps – we won't stream on with more so it doesn't make sense to go over this setting.
| | ULD | LD | SD | HD | |
| --- | --- | --- | --- | --- | --- |
| Name | Ultra-Low Definition | Low Definition | Standard Definition | High Definition | |
| Video Bitrate (kbps) | 350 | 350 – 800 | 800 – 1200 | 1200 – 1900 | |
| Resolution Width (px) | 426 | 640 | 854 | 1280 | |
| Resolution Height (px) | 240 | 360 | 480 | 720 | |
| H.264 Profile | Main | Main | High | High | |
Allowed video settings
Test stream information
This is the test stream only. The real stream will have a different server, key login and password! You will find that in the riot/matrix chat right before your concert.
Stream URL
rtmp://p.ep47234.i.akamaientrypoint.net/EntryPoint
Stream names
dclive_1_150@47234
Backup URL
rtmp://b.ep47234.i.akamaientrypoint.net/EntryPoint
If you have trouble getting this to work during your test session, please send us an email ASAP so we can check the logs to see what the problem might be.
Here is the test stream. If you see somebody else using it, please hold off on testing.
Troubleshooting Tips/FAQ
check that nobody is currently on the stream you want to send to
try the backup URL instead of the standard URL
The stream says 'offline' – does that mean I can't stream to it? If it says 'offline', it means nobody is sending to it. You can send to it and make it less offline.
I'm sending and not getting any errors, but it still says 'offline'?There is a delay of (at least) a minute for the stream to show up online from the moment you start streaming, so have patience and maybe reload the page if it doesn't show up after 90 seconds and you don't get any errors in OBS.
It says offline even though I'm streaming? You might have to reload the page again. If it's still not there, check you're looking at the right page and have the right stream keys – maybe you're streaming to the wrong stream. If that's not it, contact us.
The stream starts but immediately drops – I don't know why? Check your bandwidth is a maximum of 1900kbps, the resolution is a maximum of 720p (1280×720), and the frames per second (FPS) are 25. If that's what you have and it doesn't work, another performer used 1500kbps with a frame rate of 20 as a fallback and that worked.
The stream works but every few seconds the video gets stuck. Check you're using an H.264 encoder, x264 might work, but has been reported to cause the video to stick occassionally. If you can't use H.264, don't worry, your stream will work well enough and the audio will be crisp, just the video might not be optimal. If you want pristine video for posterity and have a powerful enough computer, you can also record in OBS.