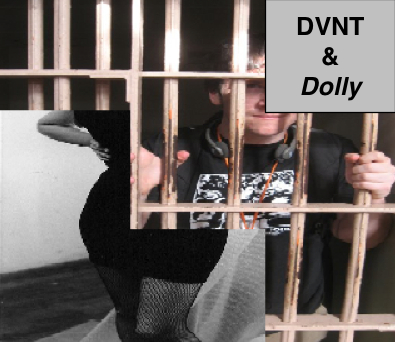 For their presentation at Networked Music Festival, Dolly Ferret (aka Dorothea Ferrette aka Judy Dunaway) and DVNT (aka Doug van Nort) will create a sound loop between two live streaming systems, and visually express their respective network angles of the loop. Dolly will be located in Boston, Massachusetts, USA and DVNT will be located in Troy, New York, USA. The piece will be presented live via two projected browsers at the festival, and will also be available worldwide via URLs that will be announced on this page closer to the performance date.
Dolly exploits and explores the sound artifacts of digital phone lines, including Skype, conference call formats and various levels of sound data compression. DVNT will take the sound streaming from Dolly's browser and feed it into his custom Max instrument called "GREIS" where he improvisationally processes the signal in various ways. He then both streams this signal on UStream and sends the signal back to Dolly, where she incorporates it into her explorations output on her browser.
Additionally, DVNT will broadcast live sound analysis of Dolly's signal via UStream and Dolly will capture this live, manipulate it via Jitter and output this on her own separate UStream feed.
Judy Dunaway has performed and presented her sound works for latex balloons throughout North America and Europe at many major venues and festivals, and has received grants for this work form the Aaron Copland Fund, ZKM, American Composers Forum and others. For the past few years, Dunaway has been working in the area of transmission and telematic art under a variety of pseudonyms.  Doug Van Nort is a member of the improvisational trio Triple Point with Pauline Oliveros and Jonas Braasch, wherein he plays his custom GREIS software designed for on-the-fly spectral and textural sound transformations, including telematic performances. Van Nort is currently a research associate in music at Rensselaer Polytechnic Institute.  Dunaway and Van Nort have presented their telematic/transmission collaborations on Dunaway's Dada Wurm Show on Blogtalkradio, as a multi-browser collaboration as part of Dream Festival 2011, and live on radio station WGXC.
http://www.blogtalkradio.com/dadawurm
You can listen to this show remotely!
DVNT's sound and video: http://www.ustream.tv/channel/dvntsea
Dolly's sound:
http://www.blogtalkradio.com/dadawurm/2012/01/27/dvnt-and-dolly-do-networked-music-festival-uk
Dolly's video (silent): http://www.ustream.tv/channel/genericnow