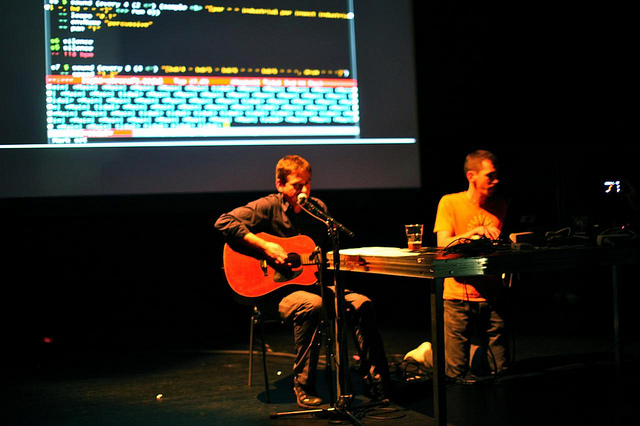 Silicone Bake new collaboration between singer/guitarist Jake Harries and live coder Alex McLean, a bridge between semi-improvised pop and live coded techno, brought to life with unsolicited tales of sex, death and capitalism.
With live coding increasingly widespread in arts festival calls, live coders must confront the new normality of their practice. Live coders have always argued for focus on the human role in the algorithm, but now they leave the comfort zone of the radical, they find themselves at last on equal terms with traditional musicians who can touch and resonate with their instruments rather than try to weave their music from the functional compositions of computer language.
Through this collaboration 'Silicone bake', Jake and Alex explore the algorithmic limits of the 3.5 minute pop song, distracting themselves from the task with the constraints of spam, ignoring the question of the human in the algorithm to celebrate love, death and counterfeit watches.
All lyrics will be taken from spam emails and sung live. All guitars will be plucked and strummed live. All generative algorithms will be edited live. Nobody will die.
Jake Harries is Digital Art Programme Manager at Access Space, the UK's longest running free media lab. Access Space uses only recycled/reused technology and FLOSS. www.access-space.org
In 2010 he co-wrote and lead Zero Dollar Laptop workshops for homeless people in London.
Jake is a musician/composer/producer/singer.He was a member of 1980s industrial funk band Chakk, 1990s chill out pioneers Heights of Abraham, and a partner in Sheffield's FON Studio. He currently uses recycled technology, guitars and FLOSS to create music with his band the Apt Gets – this is a media art research project examining the potential of recycled hardware and FLOSS in the context of the commercial music industry.
Alex McLean is one third of the live coding group slub and researcher at the University of Sheffield. His research interests cover live coding, the grounding of interactive programming in embodied creativity. Alex is co-founder of the dorkbotlondon and dorkbotsheffield meetings of people doing strange things with electricity, the runme.org software art repository, and the TOPLAP organisation for the proliferation of live algorithm programming.