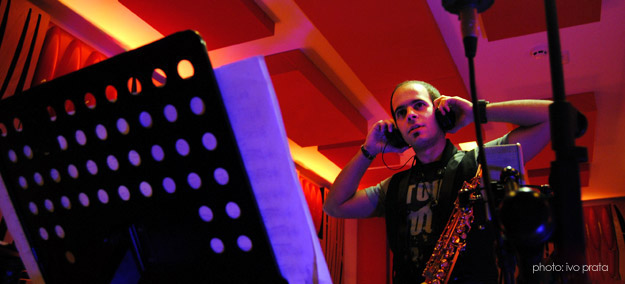 "Spaces", performed by Henrique Portovedo, is directly related to the concept of Augmented Musical Performance: Computer Mediated Interaction for Augmented Instruments and Beyond. This project addresses various processes of musical expression and performative possibilities, communicated via networked processing of sound and visuals.
Music: Rolf Gehlhaar, Hugo Correia, Michael Edwards
Visuals: Luís Girão (live and via network)
Sound Effects: Artshare (via network)
Live Sound: Luís Girão (live)
International RICOReeds Artist, Henrique Portovedo is one of the most demanded saxophone soloists, a sound artist and a lecturer in Portugal and UK. Currently, he is studying for a Phd in "Augmented Musical Performance – Beyond Sonic Art Gestures" at Oxford Brookes University.
His musical activity was awarded with the Prémio Jovens Criadores 2012, Prémio de Mérito da Fundação António Pascoal, Prémio de Mérito Artístico da Fundação Eng. António de Almeida.  Henrique was awarded with several Trinity Music Awards in 2007 and 2008. Henrique has found his place in contemporary music by working with composers such as Chiel Meijering, Cort Lippe, Dominic Murcott, Hugo Correia, Martin Parker, Rolf Gehlhaar, among others.
He has recorded for several labels including Universal, Naxos and R´Roots.
Henrique is the creative director and producer of Spaces, Imaginary, Sound of Shadows, Don´t Shoot the Saxophone Player and Distorction. He works for television and theatre and as a Sonic Artist and Sound Designer.
http://www.henriqueportovedo.com/
Henrique Portovedo plays exclusively with Selmer (Paris) saxophones and RICO Reeds.