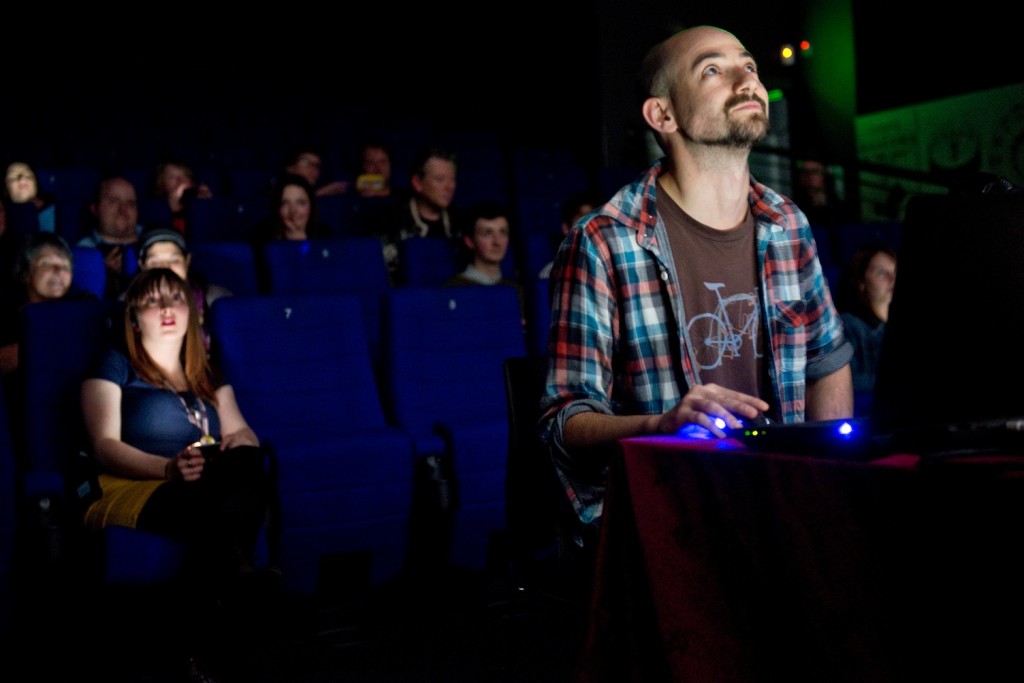 Clamour is an interactive musical performance which playfully addresses the problem of creating meaningful realtime interactions for large numbers of participants. Using a browser-based app on their mobile phones the audience will be invited to become co-composers of the work. Subtle game mechanics will exploit tensions between the density of interactions and audience member's drive for their interactions to be audible above the rest.

Simon Katan is a digital artist with a background in music and a strong preoccupation with games and play. His work incorporates hidden mechanisms, emergent behaviour, paradox, self-reference, inconsistency, abstract humour, absurdity and wonder. He makes software which creates musical odysseys through exploring animated worlds and design games in which the players unwittingly become performers of bizarre and occasionally daft rites.
He completed his PhD in audio-visual co-dependency in music at Brunel University in 2012 and won a Prix Ars Electronica Honorary Mention for his work 'Cube with Magic Ribbons. He has exhibited and performed in the UK and Europe at festivals and conferences including Imatronic (Germany), Beam Festival,  Sonica, ICMC, Hide and Seek Fest, IG Fest, Spitalfields Festival, Sonorities, Green Man Festival, Secret Garden Party, and Borealis. Recent residencies include Pixel Palace at Tyneside Cinema and ZKM Karlsruhe.
Simon is currently working as a research assistant in Goldsmith's Embodied Audio Visual Interactions group and is also designing an audio-only mobile game for the Royal Opera House's latest production of l'Orfeo.