Friday 17th July 1400-1600 (GMT+1)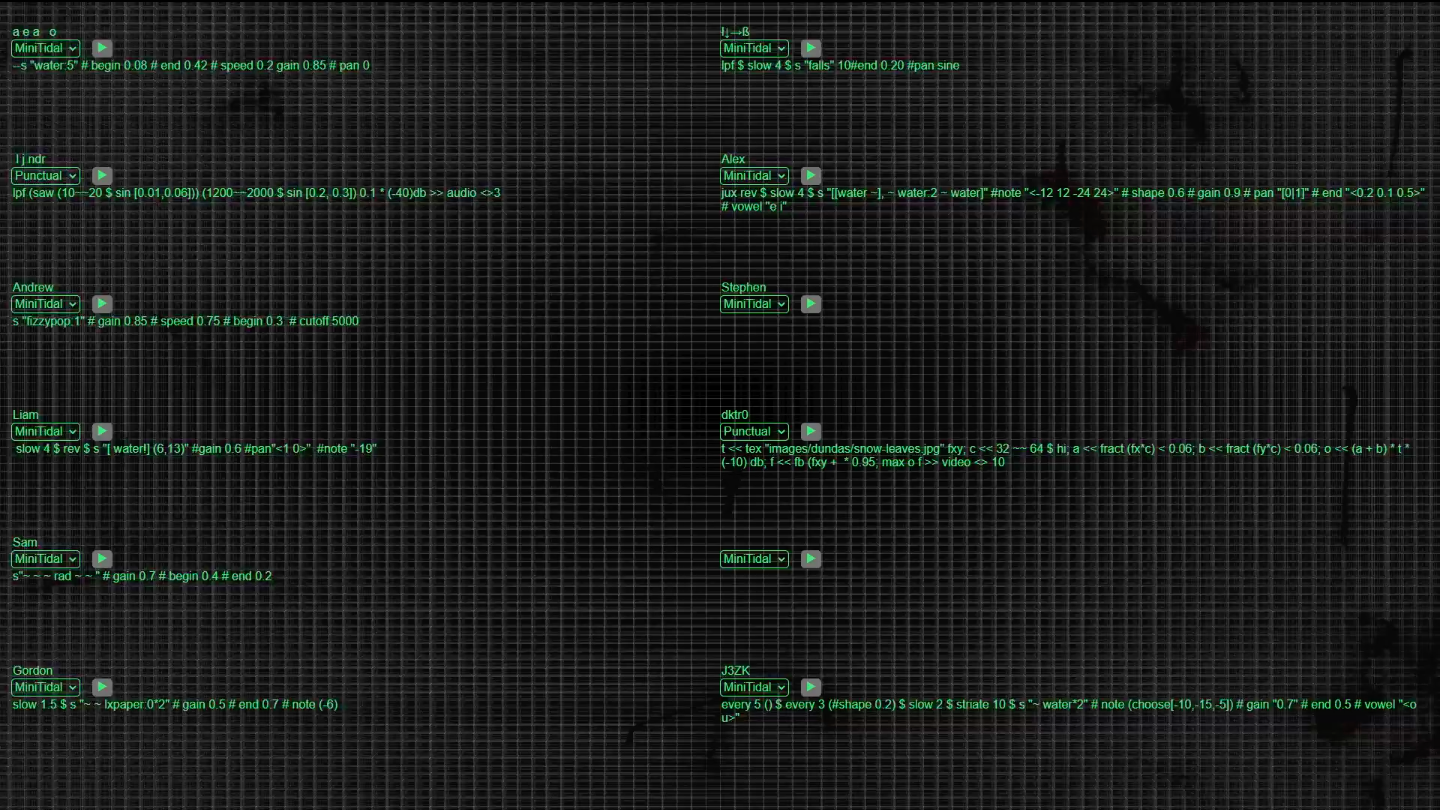 The Cybernetic Orchestra is pleased to offer a workshop on rehearsal and performance practices for networked live coding bands.
Our workshop will share and teach the orchestra's current practices, which continue to evolve in our weekly online rehearsals, as well as specific techniques applicable to ensemble use of the Estuary live coding platform.
The discussion of different practices/techniques will be led by different members of the orchestra, all of whom will be on hand to assist participants with particular challenges, provide additional perspective on issues discussed, etc.
The workshop might be thought of as a kind of "open rehearsal" where we present the social, artistic, and technical things that happen in a typical meeting of the group for discussion and exploration.
Participants will come out of the workshop with techniques for forming and running their own networked bands on the Estuary platform.
Level: beginner
15 max. participants
Learning outcomes:
participants will learn to apply rehearsal exercises and performance structures oriented to large-group networked live coding
specific techniques in the Estuary platform that assist with the activities of collaborative groups.
Equipment/software requirements: access to a computer and browser compatible with Estuary (at the time of writing this probably means something built within the past 4-5 years, using the Google Chrome or Chromium browsers).
Sign up here: https://www.eventbrite.co.uk/e/practices-and-techniques-for-networked-live-coding-bands-tickets-112349801280
---
The Cybernetic Orchestra is McMaster University's live coding laptop orchestra, active since early 2010. The group is open to all members of the McMaster community, and has had more than one hundred members in its slightly more than ten years of activity. The orchestra has released four albums (available on SoundCloud), and performed at international conferences/festivals (including the International Conference on Live Coding, and New Interfaces for Musical Expression), while also being a supportive context for faculty, graduate, and undergraduate research projects.
Prior to COVID-19, the group rehearsed weekly in the Networked Imagination Laboratory at McMaster (a CFI-funded facility dedicated to live coding and network music).
Current members are: Liam Foley, Alejandro Franco Briones, Alex MacLean, Sam McBride, David Ogborn, Luis N. del Angel, Jessica Rodriguez, Gord Simmons, Stephen Surlin, Alejandro Tamayo, Andrew Veinot
https://soundcloud.com/CyberneticOrchestra/