Next up in our performer conversations with journalist Ross Cotton are Birmingham-based sound artist Samuel Rodgers and Jack Harris
Samuel Rodgers and Jack Harris will be performing a live set at Network Music Festival via skype with Samuel at the concert venue and Jack in London. Their performance will take on Friday 27th January, 7.30pm.
///////////////////////////////////////////////////////////////////////////////////////////
Samuel Rodgers is a sound artist and composer, and Jack Harris works with field recordings, amplification and electronics.
The duo began performing together, after both attending Dartington College of Arts in Devon.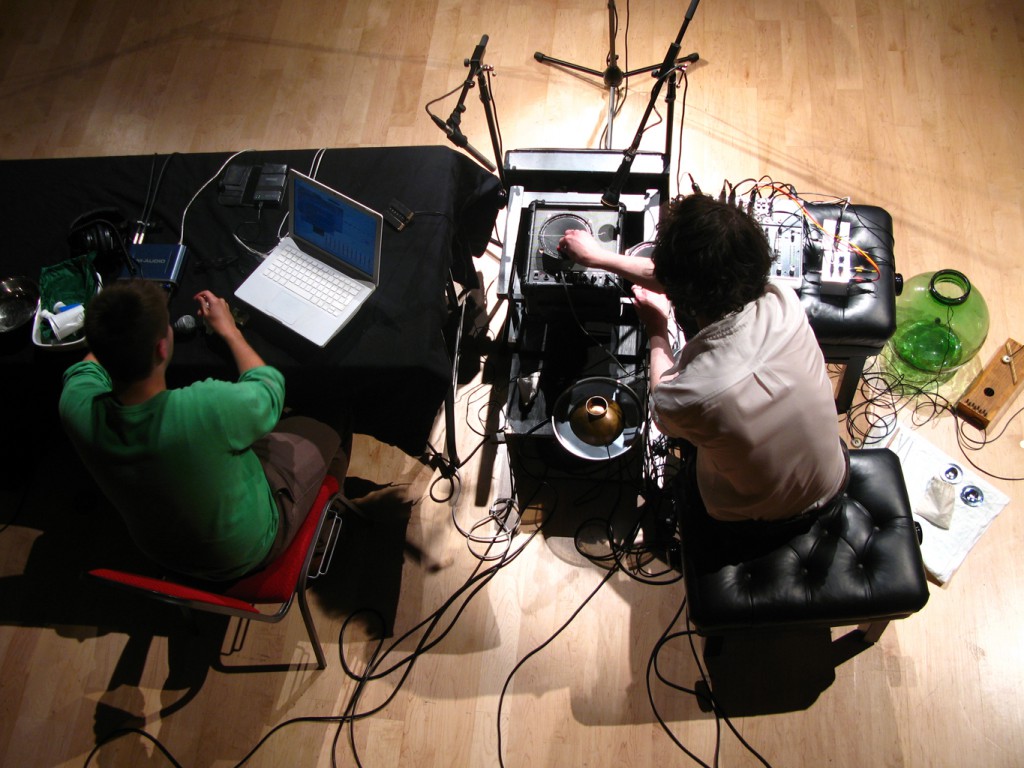 "I noticed parallels between our work, notably our approach to form, and the quality of sounds we were working with", says Samuel.
"I suggested we improvise together, and these initial sessions started a much longer and evolving collaboration."
Jack and Samuel's performance at Network Music Festival will be quite unique, as it will be taking place simultaneously in both Birmingham and London, with the two sound experimentalists sending audio to each other via the video call software Skype.
"We originally started working over Skype out of necessity", explains Samuel.
"Having lived in the same town whilst at university, we soon realised the impossibility for our work of living several hundred miles apart.
"Once we started to explore what could happen with this process, we became interested in VoiP [Voice Over IP] services as performance spaces, with unique and intriguing implications, sonic and otherwise.
"For example, when a sound is sent from London to Birmingham, back to London and then back to Birmingham, etc, the sound starts to morph and decay", he says.
"Taking on not only the qualities of each acoustic location, but also the qualities of the digital space created by the software."
The improvisational qualities of Jack and Samuel's performance will also be very interesting, with the sound being manipulated each time it is sent over through the software.
"When we improvise, we often don't discuss beforehand what we will use, and turn up to a situation with a selection of materials and equipment, opening ourselves up to what might happen", says Samuel.
"The audio that Jack sends via Skype will form the majority of the material I am working with.
"This audio will be amplified and re-amplified in various ways, creating timbral and textural shifts.
"The sounds within and surrounding the two performance spaces will also be key.
"We are both interested in a more open notion of arts practise, an enquiry into what is happening and can happen, rather than the pursuit of personal goals or explicit self expression.
"This is, among many other reasons, why we choose to work with improvisation and concurrently, elements of chance and non-intention through an awareness of environmental sound."
The actual sound created by Jack and Samuel is also very pioneering, as their use of electronic technologies are "sometimes used in ways they were not designed to be", explains Samuel.
Along with recordings of the environment and "amplified objects used as nascent instruments", Samuel leaves you with an insight into the actual experience of the duo's sonic language.
"Think about the noise between radio stations, continuous fluctuating tones, the sounds of dusk in a distant space."
Recordings of Jack and Samuel's initial sessions have just been released here: http://consumerwaste.org.uk/cw03
– by Ross Cotton – Freelance Music Journalist – http://domesticcity.posterous.com/