It's time to announce some more acts who will be performing at Network Music Festival 2013! 
We're happy to have invited 4 bands from the UK, Europe and USA to perform at the festival.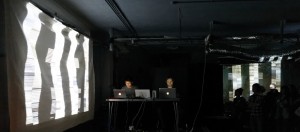 UK and Netherlands based audio-visual artists Alo Allik and Yota Morimoto will perform in our opening concert on Friday 22nd February.
In their performance the direct revelation of binary dynamics and rhythms of electronic circuits through custom-built sonic and visual models is expanded and contrasted with complex behavioral patterns of 3-dimensional artificial life and genetic programming algorithms. The audience can expect a challenging perceptual experience, simultaneously challenging, disorienting and yet familiar.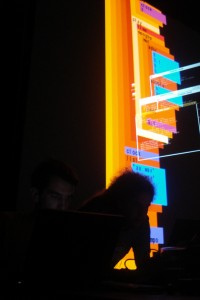 Live coding trio Slub will be performing in the late night concert on Saturday 23rd February.
With roots in UK electronica and tech culture, slub build their own software environments for creating music in realtime. Only custom composition and DSP software is used. Everything you hear is formed by human minds.
Slub project their screens so that the audience are able to appreciate their live software development process, which does not adhere to industry quality control standards. They communicate using OSC over UDP and eyebrow gestures. The output ranges from extra slow gabba, through intelligent ambient gabber to acid blues glitch.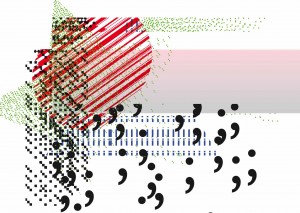 On Sunday 24th February german laptop band PB_UP (powerbooks unplugged) will perform.
If the laptop is the modern equivalent of the folk guitar, then PB_UP is the first acoustic computer folk band. 6 networked laptops: that is, sound synthesis and real-time sound processing. The sound is played only via the computer speaker. The idea of the laptop as an autonomous musical instrument is consistently realised by PB_UP into a reality. The six musicians sit in the audience writing and modifying algorithms using only self-written software.
Finally distributed laptop quartet – based in the UK and USA – Glitch Lich will also perform on Sunday 24th February. 

Glitch Lich is a group of like-minded musicians specializing in creating and performing real-time network music with its members spread across three different time zones. The quartet met at Mills College focusing on the practices of improvisation with electronics, just-intonation, and game theory. Since then, members of Glitch Lich have relocated to other parts of globe in pursuit of further studies in composition, DEMONOLOGY, and brewing. To maintain their performance practice, Glitch Lich have devised innovative methods to continue to collaborate despite trans-national/ Atlantic distances, developing new technologies to facilitate this mode of music making.
To buy tickets for NMF2013 go to http://networkmusicfestival.brownpapertickets.com/
We will be announcing the results of this years OPEN CALL next week!!